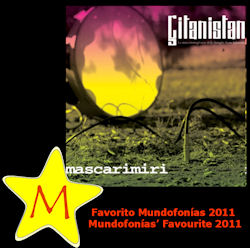 Mascarimirì · 'Gitanistan' · Dilinò
Desde el Sur de Italia un viaje por el país sin territorio de los gitanos, uniendo las tradiciones de la pizzica salentina con travesías musicales hasta los Balcanes o Jamaica.
Gitanistan de Mascarimirì es uno de los Discos Favoritos de Mundofonías 2011. Puedes consultar la lista completa aquí.
From Southern Italy, a trip through the landless country of the Gypsies, linking the traditions of Salento pizzica with musical journeys to the Balkans or Jamaica.
Mascarimirì's Gitanistan is one of the Mundofonías' Favourite Records 2011. You can check the full list here.